(One intermediate revision by one other user not shown)
Line 1:
Line 1:
 
+

[[File:Rolandmatte.jpg|thumb]]

 

''This article is about the player born in 1909. For the player of the same name born in 1893, please see [[Joe Matte (1893)]].''

 

''This article is about the player born in 1909. For the player of the same name born in 1893, please see [[Joe Matte (1893)]].''

 
 
Line 22:
Line 23:
 

[[Category:Detroit Red Wings players]]

 

[[Category:Detroit Red Wings players]]

 

[[Category:Retired in 1949]]

 

[[Category:Retired in 1949]]

−

[[Category:Pittsburgh Yellowjackets players]]

+

[[Category:Pittsburgh Yellowjackets players]]

 

[[Category:Niagara Falls Cataracts players]]

 

[[Category:Niagara Falls Cataracts players]]

 

[[Category:Detroit Olympics (IHL) players]]

 

[[Category:Detroit Olympics (IHL) players]]
---
Latest revision as of 01:10, 26 June 2012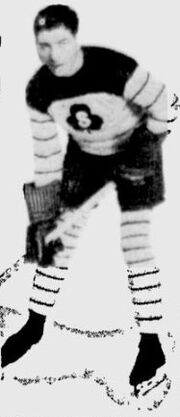 This article is about the player born in 1909. For the player of the same name born in 1893, please see Joe Matte (1893).
Roland Joseph Matte (March 15, 1909 – May 16, 1988) was a Canadian professional ice hockey player who played 24 games in the National Hockey League for the Chicago Blackhawks and Detroit Cougars.
He played junior hockey for the Ottawa Shamrocks of the Ottawa City Junior League. The Detroit Cougars signed him as a free agent in 1929. He played 12 games for the Cougars, scoring only one assist.
After that season, Matte played in the minor pros. From 1933-34 to 1939-40 he played for the St. Louis Flyers of the American Hockey Association.
In 1942-43 he got one more opportunity in the NHL. He played 12 more games, this time with the Chicago Black Hawks, scoring 3 more assists. He then retired.
In 1948-49 he played 18 games for the Akron Americans of the International League in a brief comeback.
External links
[
]