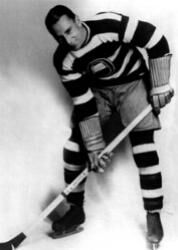 Joe Lamb (born June 18, 1906, in Sussex, New Brunswick, Canada – August 21, 1982) was a professional ice hockey forward who played 11 seasons in the National Hockey League with the Montreal Maroons, Ottawa Senators, New York Americans, Boston Bruins, Montreal Canadiens, St. Louis Eagles and Detroit Red Wings. He is one of only six NHL players to have worn the number 99.
Born in Sussex, New Brunswick, Lamb played three years of senior with the local Dairy Kings club (1922-25) before heading to Montreal to play for several amateur clubs. He played for the Montreal Junior Royals, a bank team (Royal Bank of Canada), and the Montreal Victorias. Lamb scored 28 goals in the 15 game Victorias' European tour in 1927.
In January 1928 he was signed as a free agent by the Montreal Maroons and then scored 13 points in 21 games. After playing most of the next season in Montreal, he was sent to the Ottawa Senators in exchange for George Boucher.
During the 1929-30 season, Lamb scored a personal best 29 goals skating with Frank Finnigan and Hec Kilrea. The rugged forward also led the NHL with 119 minutes in penalties. He proceeded to go on a grand tour of the NHL in the '30s by suiting up for the New York Americans, Boston Bruins, Montreal Canadiens, St. Louis Eagles, and the Detroit Red Wings. Lamb also had a second go around with the Americans and Maroons as clubs constantly saw him as an important figure who could augment their line up.
He retired in 1940 after playing two years with the AHL's Springfield Indians.
Lamb was the first NHL player to wear #99, doing so during the 1934–35 Montreal Canadiens season along with Des Roche and Leo Bourgeault.
Community content is available under
CC-BY-SA
unless otherwise noted.