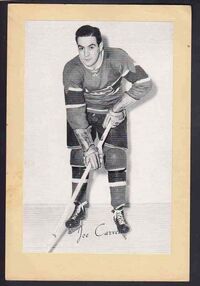 Joseph Gordon "Joe" Carveth (March 21, 1918 – August 15, 1985) was a Canadian professional player in the NHL with the Detroit Red Wings, Boston Bruins, and the Montreal Canadiens.
He was born in Regina, Saskatchewan, where he started out in junior hockey in 1936-37. The next three years were spent in the Detroit Red Wings farm system before making the big team in 1941-42. He won the Stanley Cup in 1942-43.
In 1946 Carveth was traded to the Boston Bruins and the next year to the Montreal Canadiens. He found his way back to Detroit in 1949 in time for another Stanley Cup in 1949-50.
He bounced around the minors in the last four years of his career. Carveth retired in 1954.
Awards and Achievements
Gallery
External Links