The Joe Burke Award was established in 1994. It is presented annually to the person who has given outstanding contribution, support, and dedication to women's ice hockey. Joe Burke was a
Dedham, Massachusetts
resident but never actually played the game himself. The first game he attended was the
University of New Hampshire
and
Boston College
in 1978 at
McHugh Forum
. Since that game, Burke has been at every major Girls/Women's hockey event in the New England area.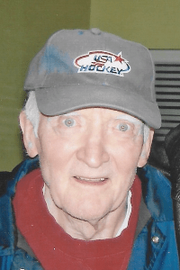 The namesake and the first winner Joe Burke passed away on May 13, 1995.[1]
Year
Winner
Background
1994
Joe Burke
Women's Hockey Supporter, Fan
1995
John Donley
Harvard University
1996
Bernie McKinnon
St. Lawrence University
1997
Joe Bertagna
ECAC/Hockey East, Harvard
1998
Carl Gray
Assabet Valley, USA Hockey
1999
Award not given out
2000
Award not given out
2001
Russ McCurdy
University of New Hampshire
2002
Bette Blair
USA Hockey, volunteer
2003
Jane Ring
St. Paul, MN
2004
George Crowe
Dartmouth
2005
Bill Cahill
Rensselaer
2006
Charlie Stryker
MN Hockey
2007
Sue Ring-Jarvi
MN Girls'/Women's Hockey
2008
Maurice FitzMaurice
Connecitcut Polar Bears
2009
Bob and Kathleen Ridder
2010
Kelly Dyer Hayes
USA Hockey
2011
Kush Sidhu
Washington Pride, Northeastern
2012
Bob Allen
USA Hockey and Lake Placid Olympic Center
2013
Brian Schulz
USCHO
2014
Mary Ann Robinson
Wisconsin Amateur Hockey
2015
Lynn Olson
Minnesota Hockey, USA Hockey
2016
Bob Ewell
Colby, Princeton, New Hampton
2017
George Griggs
Women's Hockey Supporter
Source:[2]
References
Edit
Community content is available under
CC-BY-SA
unless otherwise noted.