The Jock Harty Arena was an indoor arena in Kingston, Ontario on the campus of Queen's University. It was named after John "Jock" Harty, a player for Queen's.
In the summer of 2007, in its third incarnation, the Jock Harty Arena was demolished to make way for the Queen's Centre, a $230M athletic and student life complex which, when completed, more than doubled the capacity of Queen's existing facilities.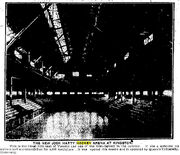 The original Jock Harty Arena was built in 1922, with the money for its construction being largely supplied by friends, family, and classmates of John Joseph Harty. This building was located on Arch Street, where Humphrey Hall now stands. It burned to the ground only two short years afterwards, and a second Jock Harty Arena was built on the same location in 1924.
The arena remained there until 1968, when it was torn down to make way for the new psychology building. The third Jock Harty Arena was opened on the north side of Union Street in 1970, and boasts a skating rink, indoor running track, and six tennis courts located on the roof. Jock Harty Arena was also used as an exam hall, convocation hall, and venue for concerts and dances.
Community content is available under
CC-BY-SA
unless otherwise noted.