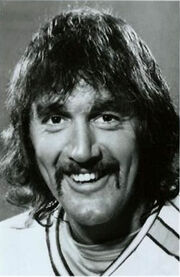 Jocelyn "Gypsy Joe" Hardy (b. December 5 1945 in Kénogami, Quebec, Canada) is a retired professional center who played 63 games in the National Hockey League and 210 in the World Hockey Association.
Hardy had a decent WHA record with 140 points in 210 games (46 goals and 94 assists) but especially marked the hockey history by becoming the first professional hockey player to register 200 points in a season while playing in the North American Hockey League for the short-lived Beauce Jaros, totalling 60 goals and 148 assists, good for 208 points in 72 games, playing on a very powerful team with four players totalling more than 100 points (Hardy, Richard Grenier with 160, Alain Caron with 137 and Luc Simard with 136), and a fifth player, René Villemure, finishing close with 93 points. Hardy, who also acted as the team's head coach, was unsurprisingly named the NAHL's leading scorer and most valuable player. He helped his team reach the Lockhart Cup finals with a solid 4 goals 24 assists performance (in 14 playoffs games), but his Jaros lost to the Philadelphia Firebirds.
Hardy retired from playing in 1978 and took on coaching with his last team, the Binghamton Dusters. He did very well, finishing with a 54-18-2 record at the end of the season and led his team to the NAHL finals, losing them once more. He returned behind a bench a decade later, in the Quebec Major Junior Hockey League with the Shawinigan Cataractes for almost three full seasons, and for the Beauport Harfangs for the most part of another, before quitting coaching in 1993.
External Links