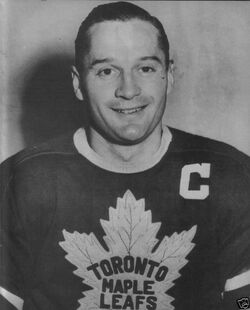 James Richard Thomson (February 23, 1927 – May 18, 1991) was a Canadian National Hockey League defenceman and captain of the Toronto Maple Leafs. He played nearly 800 games in the NHL from 1945 to 1958.
Born in Winnipeg, Thomson was signed by the Toronto Maple Leafs and headed to Toronto at the age of 16 to play junior hockey with the St. Michael's Majors, a Leafs affiliate in the Ontario Hockey Association. They won the Memorial Cup in 1944-45. After two seasons at St. Mike's, he spent most of the 1945–46 season with the Pittsburgh Hornets in the American Hockey League before joining the Maple Leafs on a full time basis the next year. He won the Stanley Cup with Toronto in 1947, 1948, 1949 and 1951.
At the beginning of the 1956–57 season, Thomson was named team captain, succeeding veteran Sid Smith who gave up the title after his offensive production plummeted during his one season as captain the previous year. Thomson's time with the C would be brief, as it was handed back to former captain Ted Kennedy when he made a comeback after retiring at the end of the 1954–55 season. Thomson became one of the leaders of Ted Lindsay's attempt to have a player's union certified. Thomson was secretary-treasurer of the association and led the organization drive within the Leafs, which resulted in every member of the team except Kennedy wanting to join the union. Thomson's unionizing activities didn't go over well with Leafs president Conn Smythe, who called him disloyal. He was sold to the Chicago Black Hawks after 12 years with the Leafs. Lindsay was also traded to Chicago at the same time. Thomson played one season in Chicago and retired in 1958 at age 31. He had started a coal and oil company while playing for the Leafs, and went into the business full-time following his playing career.
Community content is available under
CC-BY-SA
unless otherwise noted.