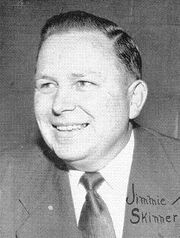 James Donald "Jimmy" Skinner (January 12, 1917 – July 11, 2007) was the Head Coach, Chief Scout & Farm Director, Director of Player Personnel, and General Manager of the Detroit Red Wings of the National Hockey League.
Born in Selkirk, Manitoba, Canada, Skinner won the 1955 Stanley Cup as coach as well as the Prince of Wales Trophy twice,(54/55 & 56/57) but an illness forced him to give up his coaching duties. He continued in a series of other managerial duties with the Red Wings finally retiring as General Manager in 1983. He had an overall NHL coaching record of 123–78–46, and coached three National Hockey League All-Star Games from 1954 to 1958.
Prior to joining the Red Wings, he played for the Selkirk Fishermen, Winnipeg Rangers & the Winnipeg Falcon-Rangers. He was offered a contract with the New York Rangers but declined the offer and played for the Flin Flon Bombers instead. Jimmy was a defenseman & as a member of the Flin Flon team that won the Saskatchewan Senior Hockey League Championship in 1937-38. Later he was playing coach of the Omaha Knights. Jimmy played with the Indianapolis Capitals as a playing coach in 1943. He then became coach of the Windsor Spitfires before becoming Detroit's coach. Other honours while coaching in Windsor include 1947/48 J.P. McGuire Trophy & 1947/49 Joseph Turner Memorial Cup (Windsor Hettche Spitfires)(IHL). Jimmy was instrumental with his friend Sam Pollock in creating the NHL Entry Draft as it is known today. He conducted 2 NHL coaching schools (Manitoba-Sask & Maritimes); and his scouting in Europe enabled many European players to play in Canada/USA which is ongoing today. Jimmy won the Memorial Cup as Manager,of Hamilton Red Wings in 1962. He also had time to be the Farm Director of the Cincinnati Wings of the Central Hockey League in 1963/64.
He was inducted into the Detroit Red Wings Hall of Fame in 1977, a member of the Flin Flon Hockey Hall of Fame & inducted into the Windsor Essex County Sports Hall of Fame as a Founder in 2006. He was also inducted into the Manitoba Hockey Hall of Fame in the "Builder" category.
He died in Windsor, Ontario in 2007, the city he lived in from 1945.
Community content is available under
CC-BY-SA
unless otherwise noted.