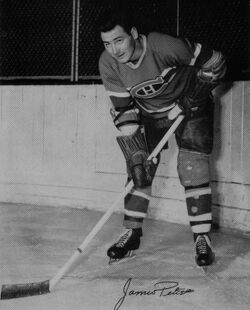 James Meldrum "Shakey" Peters Sr. (October 2 1922 – October 11 2006) in Verdun, Quebec was a professional ice hockey player who won two Stanley Cups as a member of the Detroit Red Wings in 1950 and 1954 and another with the Montreal Canadiens in 1946.
He made his way up to the junior level via the Verdun Maple Leafs, the same club that had previously produced NHLers Bobby Fillion and Rocket Richard.
With the Montreal Junior Canadiens in 1940-41, it was naturally assumed that Peters would move up to the NHL level in a Habs uniform. But such a direct and smooth progression was not to be. Instead, his playing rights were scooped up by the eccentric Eddie Shore to play with the Springfield Indians of the American Hockey League (AHL). After one season of pro, Peters joined the Canadian Army to do his part during World War II.
In the early years, he underwent training and played hockey for Montreal Army. It was there that he picked up some big-league calibre action with NHLers Pat Egan, Terry Reardon, Bob Fillion, and Red Doran.
Peters went overseas in 1944 with the army. By the time he returned to North America in 1945, the Montreal Canadiens had secured his rights. He suited up in time for the start of the 1945-46 campaign and launched into a nine-year NHL career.
In the early years, Peters usually skated on the Habs' defensive line with Murph Chamberlain and Ken Mosdell and sometimes with Billy Reay. In that context, Peters excelled as an effective checker and a nifty stickhandler with a respectable shot. The rap on his game was that he tended to lack confidence in his own prowess.
During the finals of his first big-league season (1945-46), Peters and his defensive corps were instrumental in shutting down the Bruins' Kraut Line of Milt Schmidt, Bobby Bauer, and Woody Dumart. The end result was a Stanley Cup victory for the Habs.
Over the years that followed, Peters put in stints with the Boston Bruins, Detroit Red Wings and Chicago Black Hawks. His time in the Motor City was his most successful as his team won the Stanley Cup in 1950 and 1954. Peters never returned to the NHL after his final Cup victory. Instead, he rounded out his career after two seasons with the Windsor Bulldogs senior club in 1956.
Gallery
External Links