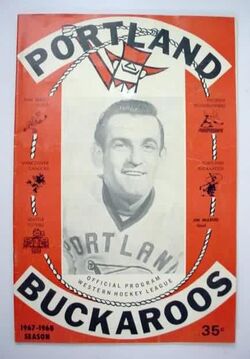 James Bradley McLeod (born April 7, 1937 in Thunder Bay, Ontario) is a retired Canadian ice hockey goaltender.
McLeod started his National Hockey League career with the St. Louis Blues in 1972. He would also play in the World Hockey Association with the Chicago Cougars, Los Angeles Sharks, Michigan Stags, and New York Golden Blades. He retired after the 1975 season.
He started out with his hometown senior Port Arthur Bearcats in 1955-56 and then joined the senior Vernon Canadians of the Okanagan Senior League from 1956 to 1960. McLeod split the 1960-61 and 1961-62 seasons between the Muskegon Zephyrs of the International Hockey League and the Seattle Totems of the Western Hockey League (WHL).
McLeod remained in the WHL for the next ten seasons, playing with Seattle, Portland Buckaroos, San Francisco Seals, and Los Angeles Blades. He won or shared the WHL Leading Goaltender award no fewer than five times (1965, 1967, 1968, 1969, & 1971) and was an All-Star four times.
In 1971-72 the St. Louis Blues accquired him in the Inter-League Draft and called him up for his first (and only) NHL stint. McLeod played in 16 games with a 3.00 Goals against average and a 6-6-4 record.
In 1972 McLeod jumped to the Chicago Cougars of the World Hockey Association (WHA) and played in 52 games with a 22-25-2 record. He was traded to the New York Golden Blades in the off-season and then early in the season again traded, this time to the Los Angeles Sharks. In that season (1973-74) he appeared in 27 games.
In 1974-75 McLeod moved with the Sharks to the Michigan Stags where he played just 16 games before being sent down to the minors. He retired at the end of the season.
External links