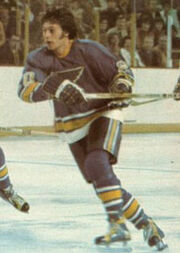 Jim Shires (born November 15, 1945 in Edmonton, Alberta) is a retired professional ice hockey player who played 56 games in the National Hockey League. He played with the St. Louis Blues, Detroit Red Wings, and Pittsburgh Penguins.
Shires played for the University of Denver from 1964 to 1968. He turned pro with the Omaha Knights as the property of the Detroit Red Wings in 1968-69.
He saw some action with the Wings in 1970-71 and then was traded to the St. Louis Blues at the end of the season. Again he played briefly with the Blues and then was returned to the minors. His last NHL action was with the Pittsburgh Penguins in 1972-73 after another trade.
Shires played in the minors until his retirement in 1975.
In the NHL, Shires played in a total of 56 games, scoring 3 goals and 6 assists.
References