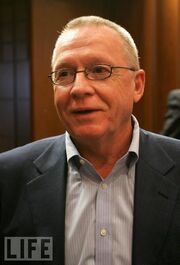 James Earl "Jim" Rutherford (born February 17, 1949, in Beeton, Ontario) is a former goaltender in the National Hockey League who played for the Detroit Red Wings, Toronto Maple Leafs, Pittsburgh Penguins, and Los Angeles Kings in the 1970s and 1980s. Since 1994, he has been president, general manager and part owner of the Carolina Hurricanes (known as the Hartford Whalers until 1997). The Hurricanes won the Stanley Cup on June 19, 2006 while Rutherford was the GM.

He played junior hockey for the Hamilton Red Wings in 1967-68 and 1968-69. In 1968-69 he was an emergency add-on by the Montreal Junior Canadiens when they won the Memorial Cup.
Rutherford then turned pro with the Detroit Red Wings but was accquired by the Pittsburgh Penguins in 1972 before becoming a regular. He was traded back to the Wings in 1974.
From 1974 to 1982 Rutherford played, usually as the number one goalie, for the Detroit Red Wings, despite many attempts to replace him. Eddie Giacomin and Rogatien Vachon were brought in as potential number ones.
Finnaly in 1980 Gilles Gilbert became the number one. Rutherford was traded to the Toronto Maple Leafs. He was a part-time goalie for the Leafs and the Los Angeles Kings very briefly before returning to the Wings and retiring in 1983.
External links