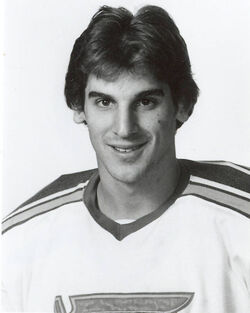 Jim Pavese (born June 8, 1962 in New York City, New York) is a retired professional ice hockey player who played 328 games in the National Hockey League. He was drafted as the 52nd overall pick by the St. Louis Blues in the 1980 NHL entry draft. He was known as a gritty "stay at home" defender with the St. Louis Blues, New York Rangers, Detroit Red Wings, and Hartford Whalers.
He started out playing junior hockey in his native New York state then moved to Ontario, Pavese played junior hockey with the Peterborough Petes, Kitchener Rangers, and the Sault Ste. Marie Greyhounds from 1978-82.
Drafted 54th overall by the St. Louis Blues in the 1980 NHL Entry Draft, Pavese joined the Blues in the 1981-82 season. However, he spent the bulk of the next two seasons in the minor pros. From 1984-85 through 1986-87 he was an effecitve defensive defenceman for the Blues.
In 1987-88 Pavese worked his way through 5 different teams. Injuries were starting to take their toll and he retired in 1991.
External links
[
]