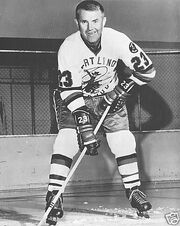 James 'Jim' Hay (born May 15, 1931 in Saskatoon, Saskatchewan) is a retired professional ice hockey defenceman who played 74 games in the National Hockey League with the Detroit Red Wings. He was included on 1954, 1955 Stanley Cup pictures with the Red Wings. His name was engraved on the Stanley Cup in 1955.
Hay played junior with the Saskatoon Legion of the 1946-47 Saskatchewan Junior League and the Windsor Spitfires of the Ontario Hockey Association in 1947-48 and 1948-49. He also spent parts of the last two seasons in the International Hockey League. Hay played one more season with the Spitfires.
In 1950 he turned pro in the Detroit Red Wings farm system and spent five seasons junping between the minors and the Wings. He won a Stanley Cup in 1954-55.
After 1955 he spent fifteen seasons in the Western Hockey League. He won the Lester Patrick Cup with the Portland Buckaroos in 1964-65.
In 1970 Hay joined the Jersey Devils of the Eastern Hockey League. He played there for two seasons and then retired in 1972 to become their coach for one season.
External links
References