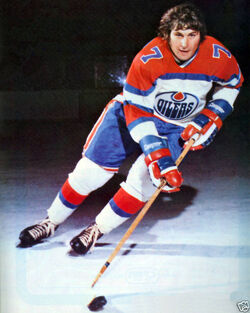 Jim Harrison (born July 9, 1947 in Bonnyville, Alberta) is a retired professional ice hockey player who played 324 games in the National Hockey League and 232 games in the World Hockey Association. He played for the Boston Bruins, Toronto Maple Leafs, Edmonton Oilers, Cleveland Crusaders, and Chicago Black Hawks.
Harrison played for the major junior Estevan Bruins (a Boston Bruins farm team) of the WHL from 1964-68. He was known as a hard-hitting goal scorer. He was picked up as a reinforcement for the Edmonton Oil Kings when they won the 1965-66 Memorial Cup Final.
He turned pro in 1968 with the Bruins but was quickly traded to the Toronto Maple Leafs for Wayne Carleton in 1969. With Toronto, Harrison was expected to be a tough player with little chance to score goals, He filled that job but was unhappy at not being given the chance to be a scorer.
Harrison jumped to the Alberta Oilers of the World Hockey Association (WHA). He became a star goal scorer in the new league, playing four seasons with the Oilers and the Cleveland Crusaders. In 232 games he scored 118 goals and 152 assists. Harrison also played for Canada in the 1974 Summit Series.
In 1976 he moved back to the NHL with the Chicago Blackhawks three seasons. Harrison finished his career with the Edmonton Oilers in 1979-80.
In 324 NHL games, Harrison scored 67 goals and 86 assists.
Awards
(later called the Four Broncos Memorial Trophy).
Gallery
External Links