Jessie Vetter
Position
Goaltender
Height
Weight
5 ft 8 in (1.73 m)
169 lb (77 kg)
WCHA Team
Wisconsin
Born

Cottage Grove, WI
December 19, 1985,
Pro Career
2005 – present

Jessie Vetter (born December 19, 1985) is a member of the 2009–10 USA Hockey national women's team. She was also a member of the 2008–09 Wisconsin Badgers women's ice hockey team, which won an NCAA title.
Playing career
Vetter played as a goalkeeper on the boys team at Monona Grove High School and won three state soccer championships. While in high school, she was a four-time all-conference selection and a three-time all-state pick in soccer. [1]
Wisconsin Badgers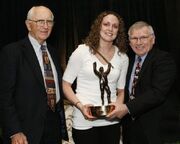 In her four year NCAA career, Vetter won an NCAA record 91 games during her four-year career and posted a NCAA-record 39 career shutouts. [2]
In her senior year at Wisconsin, Vetter went 30-2-5 with a 1.33 GAA, (2nd NCAA) and 0.936 Save percentage, (2nd NCAA). She also finished second in the NCAA in minutes played with 2162:16. She is a 2009 WCHA first team honouree, an all-tournament honoree, and the WCHA Final Face-Off MVP as Wisconsin won the League championship and garnered the top seed going into the NCAA championships.[3]
International career
At the 2009 Women's World Ice Hockey Championships, she allowed just a single goal. In addition, Vetter was the starting goalkeeper when the US won the 2008 Women's World Ice Hockey Championships.[9] Vetter was hoping to win a gold medal at the 2010 Olympic Winter Games and fetched for the final tips by former NHL Goalie Mike Richter.[10] Jessie Vetter made 51 saves in the championship-winning effort as the U.S. Women's National Team won its third consecutive world title with a 3-2 overtime victory against Canada at the 2011 IIHF Women's World Championship at Hallenstadion.[11]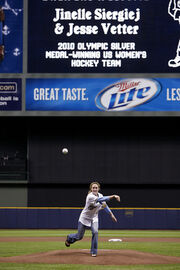 Awards and honors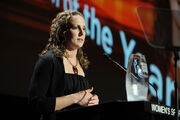 WCHA Goalie of the Year (2007)
All-WCHA First Team (2007)
All-WCHA Academic Team (2007)
NCAA Women's Frozen Four Most Outstanding Player (2006, 2009)[12]
WCHA Top 10 Players from the 2000's[13]
WCHA 2007-08 Goaltending Champion[14]
Patty Kazmaier Award[15]
Sportswoman of the Year at the Women's Sports Foundation's 30th Annual Salute to Women in Sports Awards Dinner: (Awarded Oct. 14, 2009)[16]
2009 USA Hockey Women's Player of the Year Award (also known as the Bob Allen Women's Player of the Year award) [17]
Personal
She participated in various festivities commemorating the 2012 NHL All-Star Game in Ottawa, Ontario. Said festivities included attendance at Rideau Hall for the NHL Hockey is for Everyone event, interviews at the Sirius XM Stage (along with a fan question and answer period) at the Scotiabank NHL Fan Fair[18], the Energizer Night Skate at the Ottawa Rink of Dreams (relocated from the Rideau Canal) [19],, and attended the Molson Canadian NHL All-Star Skills Competition on Saturday, January 28.
References