Medal record
Women's ice hockey
Competitor for  Canada
IIHF U18 Womens Worlds
Silver
2009 Germany
2009 Tournament
MLP Cup
Gold
2010 Germany
2010 Tournament
Gold
2011 Switzerland
Tournament
Gold
2015 Germany
2015 Tournament
Jessica Wong was an ice hockey player for the Minnesota Duluth Bulldogs women's ice hockey program. Wong is a native of Baddeck, Nova Scotia. In her first season with the Bulldogs, she accumulated 31 points (15 goals and 16 assists). On June 7, 2010: Jessica Wong was named Nova Scotia's Female Team Athlete of the Year by Sport Nova Scotia. Wong was given the Ricoh Sport Award. [1] She scored the game-winning goal to win the 2010 NCAA title in triple-overtime. Wong scored two goals in the championship game to earn an Under-22 Women's World Championship gold. In August 2013, she was the first overall pick of the Calgary Inferno in the 2013 CWHL Draft.
Playing career
[
]
Wong captained the Warner Warriors in 2006-07, leading the team in scoring and awarded MVP honors. She participated for Nova Scotia at the 2006 Esso Women's Nationals in Sydney, Nova Scotia with a fifth place finish. Wong also played for Team Atlantic at the 2007 National Women's Under-18 Championships. The team finished in fourth place. In 2007, she also represented Nova Scotia at the 2007 Canada Winter Games where the team finished in sixth. Wong was also part of three Atlantic Challenge Cups for Nova Scotia, where she won two gold medals (2005, 2007) and one silver (2006)
In addition, Wong played for Team Atlantic at the 2008 National Women's Under-18 Championship with an eighth place finish. In the same year, Wong played with Stoney Creek in Ontario. She won a gold medal with Stoney Creek at OWHA provincials and at the PWHL championship in 2008. In 2009, she won a silver medal with Stoney Creek at the OWHA provincials in 2009 while ranking fourth on the team in scoring.
NCAA
[
]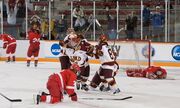 Wong joined the Minnesota Duluth Bulldogs in 2009. She scored the game-winning goal in triple overtime of the 2010 NCAA Frozen Four championship game. Wong finished fourth among Minnesota-Duluth freshmen in scoring in 2009-10.
2010-2011: Converted flawlessly from the frontline to the backline to become one of the most offensive defensemen in the nation...ranked No. 2 in the NCAA among all blueliners with 38 points (15g, 23a), averaging a blistering 1.15 points per game...led all WCHA defensemen with 31 points in league play (10g, 21a) and ranked No. 7 in the WCHA with 12 power-play points, as well as 12th for points among all league players...named to the 2010-11 All-WCHA Second Team. Second leading point scorer among all Bulldog players. Netted her first collegiate hat-trick against Connecticut on Oct. 23, 2010.
Hockey Canada
[
]
She was a member of Canada's National Women's Under-18 Team for a three game series against the United States in August 2007. The following year, she played with the Under 18 team in another series against the US. This series was held in Lake Placid, New York. Wong gained a silver medal with Canada's National Women's Under-18 Team at the 2009 IIHF World Women's Under-18 Championships.
She graudated to the Under 22 team as part of a three game series in Calgary in August 2009. Wong acquired a gold medal with the Under-22 Team at the 2010 MLP Cup in Ravensburg, Germany. In August 2010, she suited up for the Under 22 once more as part of a three-game series vs. the United States in Toronto in August 2010. At the 2011 MLP Cup, Wong was part of another gold medal winning squad.
She was a member of Canada's National Women's Development Team that won a gold medal at the 2015 Nations Cup (formerly known as the Meco Cup).[2]
CWHL
[
]
In December 2014, Wong participated in the inaugural CWHL All-Star Game.
Awards and honors
[
]
Nova Scotia's Female Team Athlete of the Year 2010
NCAA Frozen Four All-Tournament Team (2010)
2011 All-WCHA Second Team[3]
Career stats
[
]
Hockey Canada
[
]
| | | | | | | |
| --- | --- | --- | --- | --- | --- | --- |
| Year | Event | GP | G | A | Pts | PIM |
| 2007 | Exhibition vs. USA Under 18 | 2 | 0 | 0 | 0 | 0 |
| 2008 | Exhibition vs. USA Under 18 | 3 | 0 | 1 | 1 | 0 |
| 2009 | IIHF Under 18 Worlds | 5 | 4 | 8 | 12 | 0 |
| 2009 | Under 22 Selection Camp | 2 | 0 | 1 | 1 | 0 |
| 2010 | 2010 MLP Cup | 4 | 2 | 0 | 2 | 0 |
| 2010 | Exhibition vs. USA Under 22 | 3 | 1 | 0 | 1 | 2 |
Minnesota Duluth
[
]
| | | | | | |
| --- | --- | --- | --- | --- | --- |
| Year | GP | G | A | Pts | PIM |
| 2009-10 | 41 | 15 | 16 | 31 | 30 |
| 2010-11 | 33 | 15 | 23 | 38 | 37 |
| | | | | | |
References
[
]