The Jersey Devils was the name of a professional ice hockey team from Cherry Hill, New Jersey. They were not affiliated with the NHL New Jersey Devils.
The Devils were formed when the Philadelphia Ramblers, a member of the Eastern Hockey League, relocated to Cherry Hill at the end of the 1963-64 season. The Devils played in the Cherry Hill Arena until 1973, when the team folded along with the Eastern Hockey League.
In its final years, the team was owned by Jerome S. Burg and Bernard S. Levy Esq.; the vice president and general manager was Ross Turnbull. Jim Hay (a.k.a Red-Eye) served as the head coach (player/coach) from 1971-1973. Steve Heilbrun served as the trainer.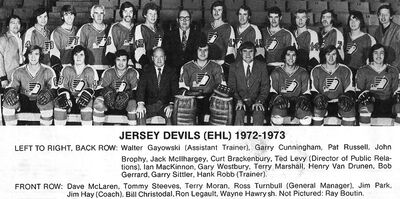 Notable players and coaches included:

External links
[
]