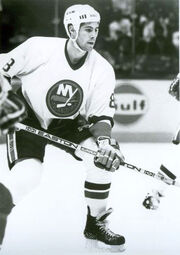 Jeffrey Thomas Norton (born November 25, 1965 in Arlington, Massachusetts) is a retired American ice hockey defenseman.
He grew up in the town of Acton, Massachusetts and attended Cushing Academy
A graduate of the University of Michigan, he was selected 62nd overall in the 1984 NHL Entry Draft by the New York Islanders, Norton has also played for the San Jose Sharks (three separate times), St. Louis Blues, Edmonton Oilers, Tampa Bay Lightning, Florida Panthers (two separate times), Pittsburgh Penguins, and Boston Bruins.
He is the older brother of NHLer Brad Norton.
Norton played in 799 NHL games, scoring 52 goals and 332 assists.
He retired in 2002.
External links