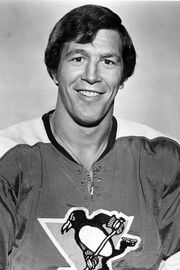 Jean Pronovost (born December 18 1945 in Shawinigan, Quebec, Canada) is a former professional right winger who played in the National Hockey League for the Pittsburgh Penguins, the Atlanta Flames and the Washington Capitals.
11th child of a family of 12, Pronovost idolized as a kid his brother Marcel Pronovost, who also played in the NHL. He played his junior with the Victoriaville Bruins, and then with the Niagara Falls Flyers, with which he won the Memorial Cup in 1965. He signed with the Oklahoma City Blazers of the Central Hockey League in 1966. The team, affiliated with the Boston Bruins, was packed full of future NHL stars like Wayne Cashman, Bernie Parent and Jean-Paul Parisé; Pronovost did well with 45 points in 68 games in his first professional season. He won the Adams Cup there. Two years later, the Bruins made the major mistake of not re-signing him. As a result, Pronovost headed for Pittsburgh in 1968, where his NHL journey began.
Pronovost's talent soon became obvious and he quickly became a key element on the Pens' lineup. In 1975-76, he formed a line with Syl Apps Jr. and Lowell MacDonald. The line proved to be a hit and Pronovost became the first player of the Penguins' history to reach the 100 points mark in a season.
He was traded to the Atlanta Flames in 1978 for Gregg Sheppard. There, he had two more excellent seasons, but failed to go very far in the playoffs, as his team seriously lacked the will to win, despite being a very skilled one. He ended his professional career with a two seasons stint with the Washington Capitals, who, unlike the Flames, had a strong will to win, but lacked the skills to.
In 1994, Pronovost became the head coach of the Shawinigan Cataractes of the QMJHL. He did extremely well in his first season there, posting an outstanding record of 26-9-3. The following season was also very good, with a 35-30-5 record. Such good results caught the eyes of teams at higher levels, and he signed with the Quebec Rafales of the International Hockey League in 1996, leading the team to the second round of the playoffs in the only season he spent there, 1996-97. In 2000, he made a come back behind a bench with the Rouyn-Noranda Huskies of the QMJHL, there again boasting excellent numbers (43-22-5).
Community content is available under
CC-BY-SA
unless otherwise noted.