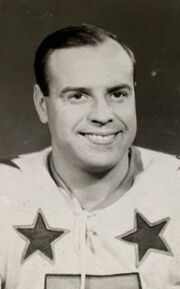 Jean-Paul "J.P" Lamirande (b. August 21, 1923 in Shawinigan Falls, Quebec - d. January 30, 1976) is a retired Canadian professional ice hockey defenceman who played 49 games in the National Hockey League for the Montreal Canadiens and New York Rangers.
He played senior hockey in Montreal until 1946 when he joined the New York Rangers' system. Lamirande split the next four seasons between the Rangers and their minor pro farm teams. He played 48 games for the Rangers and scored 5 goals and 5 assists.
After playing the 1950-51 season for the St. Louis Flyers of the American Hockey League, Lamirande came back to his native Quebec and played for various teams over seven seasons in the Quebec Hockey League. In 1954-55 he earned a one game callup to the Montreal Canadiens.
He was a late addition to the 1957-58 Whitby Dunlops who won the 1958 World Hockey Championship. The following year he played for the 1958-59 Belleville McFarlands who won the 1959 World Championship.
Lamirande played two more seasons of pro hockey and retired in 1961. He was the player-coach of the senior Windsor Bulldogs in 1959-60.
External links
[
]