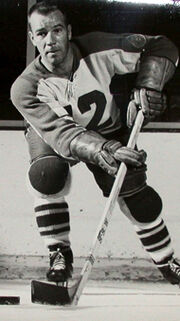 Jean-Paul "Johnny" Denis (born February 28, 1924 in Montreal, Quebec) was a professional ice hockey right winger who played ten games in the National Hockey League with the New York Rangers.
He played junior hockey for the Montreal Concordia Civics and the Montreal Junior Royals from 1941 to 1944 and also played in the Quebec Senior Hockey League until 1946.
In 1946-47 he started playing in the New York Rangers' system. He played for the New Haven Ramblers and the New York Rovers and also 10 games for the Rangers in the four seasons through 1949-50. He scored two assists for the Rangers.
From 1950 to 1962 Denis played in the minor pros. A highlight was being the QHL Leading Scorer in 1957-58.
References