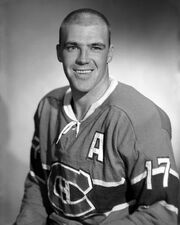 Jean-Guy Talbot (born July 11, 1932 in Cap-de-la-Madelaine Quebec) is a retired Canadian defenceman.
Jean-Guy played in the National Hockey League from 1955 to 1971. During this time, he played for the Minnesota North Stars, Detroit Red Wings, St. Louis Blues, Buffalo Sabres and Montreal Canadiens.
While with the Montreal Canadians, he won 7 Stanley Cups in 1956, 1957, 1958, 1959, 1960, 1965, and 1966. He also played in six straight Stanley Cup Finals - 1965-67 with the Canadiens and 1968-70 with the Blues.
His NHL career lasted a total of 1,056 games, scoring 43 goals and 242 assists. In the playoffs Talbot scored 4 goals and 26 assists in 150 games.
He served as a coach of the New York Rangers and the St. Louis Blues as well as the WHA's Denver Spurs.
Stanley Cup Champion 1956-1957-1958-1959-1960-1965-1966 (All with the Montreal Canadiens).
NHL 1st All-Star 1961-62.
References
Edit
Jean-Guy Talbot's career stats at The Internet Hockey Database
Community content is available under
CC-BY-SA
unless otherwise noted.