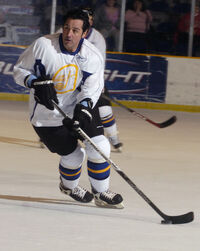 Jason Simon (born March 21, 1969 in Sarnia, Ontario) is a retired Canadian professional ice hockey forward who played five games in the National Hockey League for the Phoenix Coyotes and New York Islanders.
He played junior hockey for five different teams in the Ontario Hockey League from 1986 to 1989 and was chosen 215th overall by the New Jersey Devils in the 1989 NHL Entry Draft.
Simon turned pro in 1989 with the Utica Devils. New Jersey never gave him a shot at the NHL and he signed as a free agent with the New York Islanders in January, 1994. He finally got into 4 games with the Islanders in 1994.
He played 1 more NHL game with the Phoenix Coyotes in 1996-97. The rest of his career was spent in the minors. He retired in 2008.
External links