James Craig Langenbrunner (pronounced /ˈlæŋɡənbrʌnər/; born July 24, 1975) is an American professional ice hockey player. He's an alternate captain of the St. Louis Blues of the National Hockey League (NHL). He was the captain of the 2010 United States Olympic Team. He was a member of the 1999 Dallas Stanley Cup championship team and the 2003 New Jersey Devils Stanley Cup championship team.
Playing career
High school
In high school, Langenbrunner played for the Cloquet Lumberjacks in the Minnesota State High School Hockey League.
After scoring 148 points in 70 games during his Freshmen, Sophomore, and Junior years in High School and leading the Lumberjacks to back to back State Tournament appearances, Langenbrunner was named the AP's Minnesota High School Hockey player of the year. Following a spectacular State Tournament performance, Langenbrunner was drafted out of Cloquet 35th overall in the 1993 NHL Entry Draft by the Dallas Stars.
OHL
Langenbrunner would then forego playing his senior year of high school hockey and instead play his next two seasons with the Peterborough Petes of the OHL, scoring 75 goals and 115 assists for 190 points in only 124 games. Also with the Petes he tallied 12 goals and 20 assists for 32 points in 18 OHL playoff games. In his second year with the Petes (during the 1994–95 season) he made his NHL debut with the Dallas Stars.
IHL
The following year during the 1995–96 season he played 59 games with the Michigan K-Wings of the IHL scoring 25 goals and notching 40 assists for 65 points while tallying 13 points in 10 playoff games. His impressive numbers earned him the teams MVP award and also got him called up to the NHL where he played 12 games that year.
NHL
Dallas Stars
He did not become a regular with the Dallas Stars until the 1996–97 season when he played 76 games and scored 39 points playing on the left wing. He was a candidate for the Calder Memorial Trophy which is given annually to the NHL's Rookie of the year.
During the 1997–98 NHL season Langenbrunner reached the 20-goal plateau scoring 23 goals and 29 assists for 52 points while playing in 81 games. That year, Langenbrunner also represented his country at the 1998 Winter Olympics, but the Americans fell short of winning a medal.
In the 1998–99 NHL season Langenbrunner played in 75 games scoring 12 goals and adding 33 assists for 45 total points. However, his real breakthrough came in the playoffs that year where he scored 10 goals and had 17 points while winning his and the Dallas franchise's first Stanley Cup. He was third in scoring for the Stars, behind Mike Modano and that year's Conn Smythe Trophy winner, Joe Nieuwendyk.
New Jersey Devils
On March 19, 2002, Langenbrunner was traded with Joe Nieuwendyk to the New Jersey Devils for Jason Arnott, Randy McKay, and a first-round draft pick. The next season in 2002–03, Langenbrunner had a then career best 22 goals and 33 assists for 55 points in 78 games for New Jersey. He continued his scoring numbers in the playoffs, leading the league in goals (11) and points (18) en route to his second Stanley Cup.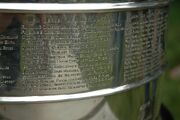 After both an injury plagued season in 2003–04 in which Langenbrunner played only 53 games and the NHL's lockout season in 2004–05, Langenbrunner bounced back strongly scoring 53 points in 80 games during the 2005–06 season. He then again had a strong playoff performance scoring 13 points in 9 games before the Devils lost to the eventual Stanley Cup Champion Carolina Hurricanes in the Conference Semi-finals.
On July 1, 2006, Langenbrunner showed his loyalty by re-signing with the New Jersey Devils rather than testing free agency. He signed a five-year, $14 million contract ($2.8 million per year).
During the 2006–07 season Langenbrunner scored a career best 60 points playing in all 82 games that season scoring 23 goals and adding 37 assists (both career bests). In the playoffs, Langenbrunner again played well scoring eight points in 11 games before losing to the Stanley Cup Finals bound Ottawa Senators.
On December 5, 2007, Langenbrunner was named captain of the New Jersey Devils. That year Langenbrunner missed nearly 20 games to a groin injury and his stats dipped as he scored 41 points in 64 games. In the playoffs the Devils lost in the first round to the New York Rangers four games to one, but Langenbrunner played well scoring four points in the short series.
Starting in the 2007–08 season Langenbrunner played on a line with teammates Zach Parise and Travis Zajac. The line was dubbed "ZZ Pops" due to the difference in age between the veteran and the two youngsters who have initials with the letter Z.
In January 2009, Langenbrunner scored two goals in each of three consecutive games, including three game winners for the Devils. Two of those game-winning goals were scored in overtime. His streak of three consecutive multi-goal games with a game winning goal was last accomplished by Wayne Gretzky during the 1981–82 season. Langenbrunner played extremely well in the second half of the season and went on to set career highs in goals (29) assists (40) points (69) and plus/minus (+25). Langenbrunner along with fellow linemates Zach Parise and Travis Zajac all had remarkable seasons as the line combined for 94 goals and 131 assists for a total of 225 points as well as having a combined plus/minus of 88.
On January 2, 2010, Langenbrunner got the first hat trick of his career while playing against the Minnesota Wild in his home state of Minnesota.
Return to Dallas
On January 7, 2011, Langenbrunner was traded back to the Stars for a conditional third-round pick in the 2011 NHL Entry Draft. The pick will become a second-round pick if the Stars either win a playoff round or re-sign Langenbrunner before the draft.[1] Langenbrunner would score his first goal in his return as a Star in his 1,000 career game against the Los Angeles Kings on January 17, 2011.
St. Louis Blues
Langenbrunner signed a one-year contract with the St. Louis Blues on July 6, 2011.[2]
Statistics
As of January 19, 2011, Langenbrunner has played in 1000 regular season games in the NHL, scoring 233 goals and 388 assists for 621 points and is currently 29th on the all-time American-born scoring list for NHL players. In 137 playoff games, he has scored 33 goals and 53 assists for 88 points and is currently 15th among active NHLers in points scored, with 35 of those points coming in his two Stanley Cup-winning seasons.
He is widely credited for his impressive post-season performances, the most recent being the second overtime goal against the Ottawa Senators in the second round of the 2007 Playoff Series. It was his 12th game-winning goal and his fourth career playoff overtime goal. His 12 playoff game-winning goals top notable Hall of Famers such as Mario Lemieux, Cam Neely, and Paul Coffey and tie him with Legends such as Phil Esposito and Mark Messier.
Personal life
Jamie was born in Duluth in 1975 although the family lived in Moose Lake at the time. When he was 1, the family moved for a short time to Moorhead before moving to International Falls in 1979. Langenbrunner was well into his skating career by age 5. They moved to Cloquet in 1985.
Langenbrunner married his high school sweetheart, Elizabeth, and together they have three children: daughter Laine (born 1998), and sons Landon (born 2000) and Mason (born 2002)[3]. While with the Devils, Langenbrunner lived in North Caldwell, New Jersey.[4] In the offseason Langenbrunner and his family live in his home state of Minnesota.
Awards and achievements
Career statistics
 
 
Regular season
 
Playoffs
Season
Team
League
GP
G
A
Pts
PIM
GP
G
A
Pts
PIM
1993–94
Peterborough Petes
OHL
62
33
58
91
53
7
4
6
10
2
1994–95
Peterborough Petes
OHL
62
42
57
99
84
11
8
14
22
12
1994–95
Dallas Stars
NHL
2
0
0
0
2
—
—
—
—
—
1995–96
Michigan K-Wings
IHL
59
25
40
65
129
10
3
10
13
8
1995–96
Dallas Stars
NHL
12
2
2
4
6
—
—
—
—
—
1996–97
Dallas Stars
NHL
76
13
26
39
51
5
1
1
2
14
1997–98
Dallas Stars
NHL
81
23
29
52
61
16
1
4
5
14
1998–99
Dallas Stars
NHL
75
12
33
45
62
23
10
7
17
16
1999–00
Dallas Stars
NHL
65
18
21
39
68
15
1
7
8
18
2000–01
Dallas Stars
NHL
53
12
18
30
57
10
2
2
4
6
2001–02
Dallas Stars
NHL
68
10
16
26
54
—
—
—
—
—
2001–02
New Jersey Devils
NHL
14
3
3
6
23
5
0
1
1
8
2002–03
New Jersey Devils
NHL
78
22
33
55
65
24
11
7
18
16
2003–04
New Jersey Devils
NHL
53
10
16
26
43
5
0
2
2
2
2004–05
ERC Ingolstadt
DEL
11
2
2
4
22
11
1
6
7
6
2005–06
New Jersey Devils
NHL
80
19
34
53
74
9
3
10
13
16
2006–07
New Jersey Devils
NHL
82
23
37
60
64
11
2
6
8
7
2007–08
New Jersey Devils
NHL
64
13
28
41
30
5
0
4
4
4
2008–09
New Jersey Devils
NHL
81
29
40
69
56
4
2
1
3
2
2009–10
New Jersey Devils
NHL
81
19
42
61
44
5
0
1
1
4
2010–11
New Jersey Devils
NHL
31
4
10
14
16
—
—
—
—
—
2010–11
Dallas Stars
NHL
39
5
13
18
29
—
—
—
—
—
NHL totals
1035
237
401
638
805
137
33
53
86
127
See also
References
External links