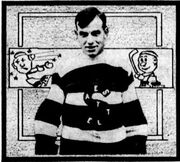 James "Jim" Riley (born May 25, 1897 in Bayfield, New Brunswick) was a professional ice hockey player who played 17 games in the National Hockey League and 90 games in the Pacific Coast Hockey Association. He played for the Chicago Black Hawks, Detroit Red Wings, and Seattle Metropolitans. He won the Stanley Cup with Seattle in 1917.
Riley is also the only athlete to have played both major league hockey and major league baseball. He played in the 1921 season with the St. Louis Browns and in 1923 with the Washington Senators. He also played several seasons in baseball's minor pro leagues.
He started out with the senior Calgary Victorias in 1914-15 and then turned pro with the Victoria Aristocrats in 1915-16. The following two seasons he played for the Seattle Metropolitans, winning the Stanley Cup in 1917 Stanley Cup Finals.
After two years in the Canadian military during World War I, Riley returned to Seattle in 1919-20 for five seasons, During that time he also played some pro baseball. In 1925 he left hockey to concentrate on baseball for two years.
In 1926-27 he donned skates again for a team in Dallas. His old Seattle coach, Pete Muldoon, now coach of the Chicago Black Hawks, heard of this and signed him up. Riley played in 3 games for the Hawks and 6 games for the Detroit Cougars that season, getting one assist.
He then left for baseball again. He had one last hockey fling in California in 1928-29 before retiring.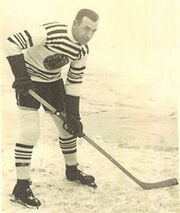 External links