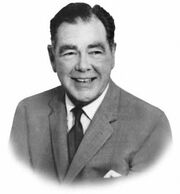 James Dougan Norris (November 6, 1906 – February 25, 1966) was an American sports businessman, with interests in boxing, ice hockey, and horse racing. He was the son of James E. Norris and half-brother of Bruce Norris and is a member of the Hockey Hall of Fame.
Born in Chicago, Norris was a partner in the brokerage firm Norris and Kenly, and became involved in hockey by working for his father, who bought the Detroit Red Wings in 1932. In 1946, James D Norris was one of a goup that purchased the Chicago Blackhawks along with Bill Tobin and Arthur M. Wirtz. The Blackhawks won the Stanley Cup in 1961, with Norris as chairman. Norris was elected to the Hockey Hall of Fame in 1962.
Norris's father passed along several of the family's businesses to him in the late 1940s, including a significant ownership position in Madison Square Garden. Norris was president of the International Boxing Club of New York from 1949 to 1958. The IBC dominated boxing in the U.S. in the 1950s, but was dissolved by the courts, which ruled it to be a monopoly.
Like his father, Norris suffered from heart problems and had two heart attacks. He died in Chicago in 1966 at age 59, with a reported net worth of $250 million. Shortly before his death, Norris had arranged for an NHL franchise to be awarded to St. Louis, Missouri, even though no one from St. Louis applied for a franchise. Norris owned the St. Louis Arena.
1936, 1937, 1943, 1950, 1952 Stanley Cup (Detroit)
1961 Stanley Cup (Chicago)
Community content is available under
CC-BY-SA
unless otherwise noted.