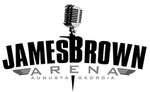 The James Brown Arena (formerly known as the Augusta-Richmond County Civic Center) is a multi-purpose complex in Augusta, Georgia. It features an 8,500 seat arena, renamed the James Brown Arena in honor of musician James Brown on August 22, 2006. The complex also features a 2,690 seat theater and a 14,500 sq. ft. exhibit hall that opens into a 23,000 sq. ft. arena floor.
The James Brown Arena was home to the Augusta River Hawks of the Southern Professional Hockey League starting in 2010 until the ice making system malfunctioned late in the 2012-13 season forcing the River Hawks to finish their home schedule at their practice facility. It is also the former home of the ECHL's Augusta Lynx from 1998–2008.
The estimated price to replaced the ice making system was $1.2 million.  The age of the building (mid-1970's opening) had lead many to believe that hockey will not return to Augusta until the city builds a new facility, which the county's voters shot down in a referendum in 2004. [1]
In 2020 plans were put forward to replace the venue with a new $25 million facility that allow for more concerts to come to Augusta and allow for the possibility of an ice making plant for the new arena. The design would be worked into the 2,800 seat Bell Auditorium which stands next to the existing arena.[2] The Bell Auditorium is planned to remain open for events while the old arena is demolished and the new arena is under construction.
References
External links