This article is about the defenceman who played for the Chicago Blackhawks in the 1950's. For the goaltender of the same name who played for the Washington Capitals, please see Jim Bedard (goalie).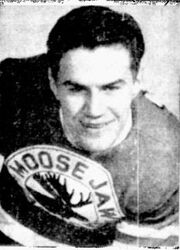 James "Jim" Bedard (b. November 19th 1927 in Admiral, Saskatchewan, Canada) is a former professional defenceman who played 22 games in the National Hockey League in the 1950s with the Chicago Black Hawks.
He played junior for the Moose Jaw Canucks from 1945 to 1948. In 1948-49 Bedard turned pro with the Kansas City Pla-Mors. Over the next two seasons he was called up to the Chicago Blackhawks for a total of 22 games, scoring a goal and an assist.
In 1951-52 he joined the New Westminster Royals for a four year stay. Bedard continued to play minor pro and senior hockey in western North America until his retirement in 1958.