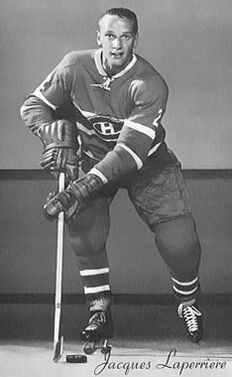 Joseph Jacques Hughes Laperrière (born November 22, 1941, in Rouyn, Quebec) is a Canadian retired professional defenceman who played for the Montreal Canadiens in the National Hockey League. He is currently a special assignment coach for the New Jersey Devils and also the father of Daniel Laperrière.
Laperrière was recipient of the Calder Trophy in 1964 and the Norris Trophy in 1966. He was a second team all star in 1964 & 1970 and a first team all star in 1965 & 1966. He was inducted into the Hockey Hall of Fame in 1987.
Laperrière won the Stanley Cup six times during his playing career. He also won two cups as an assistant coach. He led the NHL in plus/minus in 1973, being the only player other than Bobby Orr to lead the league in that stat between 1969 and 1975.
Laperrière later served as assistant coach with Montreal, winning his 7th and 8th cups in 1986 and 1993.
Achievements
Gallery
External Links