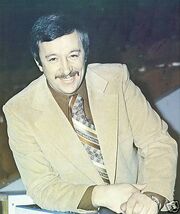 Jacques Demers (b. August 25, 1944 in Montreal, Quebec) is a former Canadian head coach for the World Hockey Association and the National Hockey League.
He is currently a member of the Canadian senate.
World Hockey Association
Two of the franchises that Demers coached in the WHA were the Chicago Cougars and the Quebec Nordiques. Demers had the opportunity to coach Wayne Gretzky in the 1979 WHA All-Star Game. The format of the game was a three game series between the WHA All-Stars against Moscow Dynamo. The WHA All-Stars were coached by Jacques Demers and Demers asked Gordie Howe if it was okay to put him on a line with Wayne Gretzky and his son Mark Howe.[1] In Game One, the line scored seven points, as the WHA All-Star won by a score of 4-2.[1] In game two, Gretzky and Mark Howe each scored a goal and Gordie Howe picked up an assist as the WHA won 4-2.[1] The line did not score in the final game but the WHA won by a score of 4-3.
National Hockey League
While in the NHL, he coached for the Montreal Canadiens, Québec Nordiques, St. Louis Blues, Detroit Red Wings and Tampa Bay Lightning. He has won two consecutive Jack Adams Awards for NHL Coach of the Year with Detroit in 1987 and 1988, the only person to do this in consecutive years. In 1993, he led Montreal to its most recent Stanley Cup. He is currently working as a commentator for the French Canadian sports network RDS.
On November 2, 2005, Jacques Demers released a biography, written by Mario Leclerc, titled En toutes lettres (All Spelled Out in English) where he revealed that he is functionally illiterate.[2]
As of 2007, he was named the 100th most influential personality in hockey by The Hockey News magazine.
References
↑ 1.0 1.1 1.2 The Rebel League: The Short and Unruly Life of the World Hockey Association, p.221, McLelland and Stewart, Toronto, ON, ISBN 0-7710-8947-3
External links