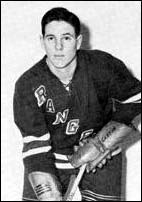 Jackie McLeod (born April 30, 1930 in Regina, Saskatchewan) was a professional hockey player, senior amateur player, Canadian National Team coach, and junior hockey coach. He played for the New York Rangers and won the World Championship in 1961.
He played junior hockey for the Moose Jaw Canucks from 1947-49 then joined the Rangers in 1949. Over the next five seasons he played in 106 games, scoring 14 goals and 23 assists. A lot of his time was spent in the minors with the Saskatoon Quakers.
His experience with the Rangers ended in 1955 and he spent another five years in the Western Hockey League with the Quakers, Calgary Stampeders, and Vancouver Canucks.
In 1960 he left pro hockey and started what was, in effect, a second career. He played senior amateur hockey and joined the Trail Smoke Eaters as they won the 1961 World Championship. McLeod was picked up again by the Galt Terriers for the 1962 World Championship (where they won the silver medal) and again by the Trail Smoke Eaters in the 1963 World Championship. He was also playing for the Moose Jaw Pla-Mors and the Saskatoon Quakers.
He was the player-coach of the Moose Jaw Pla-Mors in 1964-65.
In 1965 he was named the coach of the Canadian National Team. He played in a few games in 1965-66 before retiring as a player.
He continued as a coach until the team disbanded in 1970. The team won a bronze medal in the 1968 Olympics.
In 1972 he became coach and General manager of the junior Saskatoon Blades of the Western Hockey League. While there he was coach of Canada's team in the 1975 World Junior Championship. He retired in 1980.
In 1984 he was inducted into the Saskatchewan Sports Hall of Fame. In 1999 he was inducted into the International Hockey Hall of Fame.  In 2016 he was inducted into the Saskatchewan Hockey Hall of Fame in the builders category.