Jackie Barto was the head coach for the Ohio State Buckeyes women's ice hockey]] program. Her best season as head coach was in Her best season was in 2006–07. The Buckeyes were 20-13-4 and made it to the WCHA semifinals before losing to the eventual champion Wisconsin.
Barto participated in field hockey, ice hockey and softball from 1980 to 1984 at Providence. She twice earned the Providence College Female Athlete of the Year honor. As a competitor for the Providence Friars women's ice hockey program, she logged 200 points. At the time of her retirement from coaching in 2011, her 200 points still ranked as fifth all-time on Providence's scoring rankings. Her 113 goals rank her as the third best scorer in Friars history.[1]
Barto began as an assistant coach for the Providence Friars under John Marchetti. In 1994, she became the head coach and guided the Friars to the 1995 ECAC title.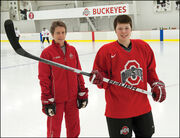 Barto was the first ever women's ice hockey coach in the history of the Ohio State program. During the 2009-10 Ohio State Buckeyes women's ice hockey season, Barto sent four of her players (one present, three past) to the Vancouver Winter Games.[2] Minttu Tuominen was on the 2009-10 Buckeyes roster. Former Buckeyes players included Emma Laaksonen, Lisa Chesson (who won a silver medal with the USA]], and Tessa Bonhomme, who captured the gold medal with Canada.
On April 19, 2011, she announced her retirement from the Ohio State Buckeyes. Her final record with the Buckeyes was 248-272-52, a .433 winning percentage.[3] Her 248 wins ranked eighth all-time among NCAA Division I head coaches.[4]
Of note, Barto was on the selection committee for the 2006 US Women's Olympic Team. At the 2008 International Ice Hockey Federation World Championships, she coached the US team to a gold medal. She also earned a silver medal as head coach of the US at the 2007 Four Nations Cup.
Providence College Hall of Fame
Community content is available under
CC-BY-SA
unless otherwise noted.