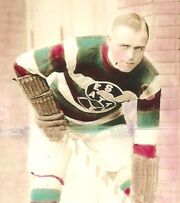 John Phillip "Jack" Walker (November 29, 1888 – February 16, 1950) was a Canadian professional forward who played for the Toronto Blueshirts, Seattle Metropolitans, Victoria Cougars, and Detroit Cougars.
Born in Silver Mountain, Ontario, Walker grew up in Port Arthur, Ontario where his parents had lived since 1870. He played with various Port Arthur teams in the New Ontario Hockey League from 1905-12. In March 1911 he and team mate Eddie Carpenter played for the Port Arthur Hockey Club against Ottawa for the Stanley Cup but lost. Over the 1912/13 season, he and Carpenter played for the Moncton Victorias.
Walker played for the Toronto Blueshirts in 1913-14 and 1914-15, winning the Stanley Cup in 1914. He then junmped to the Seattle Metropolitans in 1915, winning a Stanley Cup in 1917. When the team folded in 1924, Walker moved to the Victoria Cougars, winning the Stanley Cup in 1925.
When the Cougars and the Western Canada Hockey League folded in 1926, Walker went east to join the NHL's Detroit Cougars for two seasons. In 1928 he returned to the west, playing 5 seasons for minor pro clubs on the west coast before retiring in 1933.
Walker helped the Blushirts 1914, Metropolitans 1917, and Cougars 1925 all win Stanley Cups in his career. He was inducted into the Hockey Hall of Fame in 1960.
Community content is available under
CC-BY-SA
unless otherwise noted.