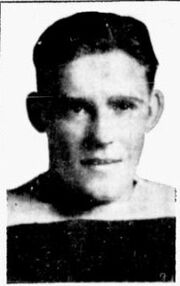 John Fraser "Jack" Tomson (January 31, 1918 – December 14, 2001) was a professional ice hockey player who played 15 games in the National Hockey League. Born in Uxbridge, England, he played for the New York Americans.
He grew up in Regina, Saskatchewan, and played junior hockey for the Regina Aces in 1935-36 and 1936-37 and then for the senior Aces in 1937-38.
Tomson turned pro with the Seattle Sea Hawks in 1938-39 and then moved to the Philadelphia Ramblers in mid-season. The New York Americans called him up for two playoff games that season. He played in 15 games for the Americans over the next two seasons, scoring a goal and an assist. That was the extent of his NHL career.
He played for the senior Regina Rangers in 1941-42 and then the Esquimalt Navy in 1942-43 and 1943-44. 1944-45 was spent in the Canadian military.
Tomson returned to pro hockey after World War II with three seasons with the New Westminster Royals and one season with the Seattle Ironmen. He then played senior for the Kerrisdale Monarchs in 1949-50 and 1950-51 and then retired.
External links
Edit
Community content is available under
CC-BY-SA
unless otherwise noted.