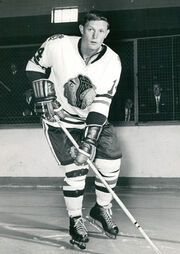 John "Jack" Stanfield (born May 30, 1942 in Toronto, Ontario) is a retired Canadian professional ice hockey forward who played a single game in the National Hockey League for the Chicago Black Hawks. He also played 112 games in the World Hockey Association with the Houston Aeros.
He played Junior "B" with the Dixie Beehives in 1960-61 and then Junior "A" for the St Catharines TeePees in 1961-62. His pro rights belonged to the Chicago Blackhawks and he played for seven seasons in the Hawks' minor pro season. His one NHL callup came in the 1965-66 playoffs.
Stanfield's rights were accquired by the Vancouver Canucks of the Western Hockey League in 1969 and then transferred to the NHL Canucks in 1970. Despite that, he never played for the Canucks.
In 1972, after three seasons for the Rochester Americans, Stanfield signed with the Houston Aeros of the World Hockey Association. He played there for two seasons, winning the Avco World Trophy in 1974.
Stanfield retired in 1974.
External Links
[
]
Jack Stanfield's career stats at The Internet Hockey Database