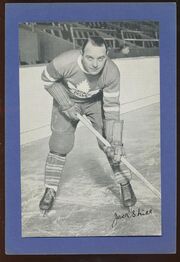 John Walker "Jack" Shill (born January 12, 1913 in Toronto; died October 25, 1976) was a Professional Hockey forward who played 6 seasons in the National Hockey League for the Toronto Maple Leafs, Boston Bruins, New York Americans and Chicago Black Hawks. He won the Stanley Cup in 1938 with Chicago.
He played junior for the Toronto Marlboros from 1929 to 1933. In 1932-33 and 1933-34 he also played for the senior Marlboros and in 1933-34 he had a seven game tryout with the Toronto Maple Leafs. Shill was loaned to the Boston Bruins in 1934-35 and split the 1935-36 season between the Leafs and the Syracuse Stars.
In 1936-37 he played a full season for the Leafs. The next season he was traded to the New York Americans for Wally Stanowski and then sold to the Chicago Black Hawks in mid-season. The Hawks won the Stanley Cup this year.
He played the 1938-39 season with Chicago which was his last in the NHL. Shill played three seasons with the Providence Reds. From 1942-43 he played senior and commercial hockey in the Toronto area until his retirement in 1948.
In the NHL, Shill played in 160 games, scoring 15 goals and 20 assists.
Awards & Achievements
External Links