Line 14:
Line 14:
 

1965-Jack_Norris.jpg|Jack Norris played 23 games in 1965 after [[Eddie Johnston]] was injured.

 

1965-Jack_Norris.jpg|Jack Norris played 23 games in 1965 after [[Eddie Johnston]] was injured.

 

1965-Norris_Lindsay.jpg|[[Ted Lindsay]] scores the last goal of his career on Jack Norris, March 18, 1965.

 

1965-Norris_Lindsay.jpg|[[Ted Lindsay]] scores the last goal of his career on Jack Norris, March 18, 1965.

 
+

1975-Dec24-Lariviere-Backstrom-Norris.jpg|[[Garry Lariviere]], [[Ralph Backstrom]], Jack Norris, December 24, 1975.

 

</gallery>

 

</gallery>

 
 
---
Revision as of 21:46, 14 October 2020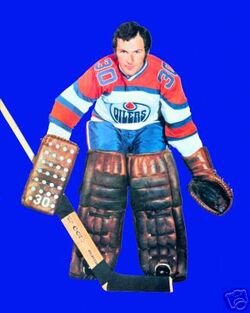 Jack Wayne Norris (b. August 5, 1942 in Delisle, Saskatchewan) is a former professional ice hockey goaltender. Although never drafted, Norris went on to play parts of four seasons in the NHL, along with another four seasons in the WHA.
He broke into the NHL in the 1964–65 season, playing 23 games with the Boston Bruins as the backup to Eddie Johnston. He lost his spot the following season to Gerry Cheevers.
Norris was subsequently dealt to the Chicago Black Hawks in the Phil Esposito trade, where he played ten games over two seasons.
Norris spent significant time in the minor leagues before eventually joining the Los Angeles Kings as the backup to Denis DeJordy. After spending the 1971–72 season in the minor leagues, Norris joined the Alberta Oilers of the WHA.
He spent two seasons as the starter in Edmonton and two more with the Phoenix Roadrunners before retiring in 1976.
Gallery
External Links