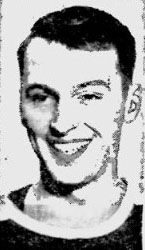 John William "Jack" McKenzie


joined the junior Toronto Marlboros of the Ontario Hockey Association in 1949. … transferred to their senior team to assist them during bid for the Allan Cup. … won his first of three Allan Cups that year. … spent the following season with the Marlboros. … joined the Kitchener-Waterloo Dutchmen in 1951. … then was suspended by the Dutchmen when he tried to join the University of Toronto Blues. … instead played for his hometown Brandon Elks. … returned to the Dutchmen in 1952 and stayed with them through 1957. … winning his other two Allan Cups in the process. … represented Canada at the 1956 Winter Olympics. ... was the team's captain. … played in eight games, scored seven goals. … unanimously named in a poll of Olympic hockey officials as the best forward of the tournament, despite playing the majority of the games as a defenseman. ... moved to the Allan Cup champs Whitby Dunlops for 1957. … captured a gold medal at the 1958 World Ice Hockey Championships. … although he played several games with the Dutchmen that season as well. … returned during the 1958-1959 season for a final spell with the Dutchmen.
Manitoba Junior Hockey League First All-Star Team (1949)
Turnbull Cup Manitoba Junior Hockey League Championship (1949)
Abbott Cup Western Canada Junior A Championship (1949)
Ontario Hockey Association Senior A Championship (1950, 1953, & 1955)
Eastern Canada Senior Hockey Championship (1950, 1953, & 1955)
Allan Cup Canada Senior Hockey Championship (1950, 1953, & 1955)
Played in Olympics Winter Games (1956), winning Bronze Metal
Western Ontario Senior Hockey League Championship (1957)
Played in IIHF World Championship (1958), winning Gold Metal
Ontario - Northern Ontario Senior Hockey League Championship (1959)
Community content is available under
CC-BY-SA
unless otherwise noted.