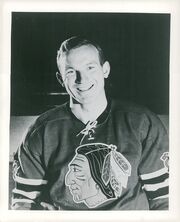 John Archibald "Jack" McIntyre (September 8, 1930 in Brussels, Ontario – March 15 1998) was a professional ice hockey player.
McIntyre played 499 National Hockey League games as an offensive defenceman for the Boston Bruins, Chicago Black Hawks and Detroit Red Wings.
He started out with the junior St. Catharines TeePees from 1947-50.
McIntyre first played in the NHL with 12 goals in his rookie season with the Boston Bruins in 1951-52. He played three seasons with the Bruins and then four and a half with the Black Hawks and two and a half with the Red Wings.
After 1960 he played three seasons in the minor pros. Starting in 1964, McIntyre played four seasons in the senior Ontario Hockey Association.
He retired in 1968. In his NHL career, he played in 499 games and scored 109 goals and 102 assists. In the playoffs, he played 29 games with 7 goals and 6 assists.
Following his retirement he coached the junior London Nationals (later Knights) in their first season in the Ontario Hockey League in 1965-66. He then was player-coach of the Johnstown Jets in 1966-67.
Highlights of the December 21, 1952 game between the Bruins and the Habs. This was the third game of a tryout for Jean Beliveau (who wears #12) and he scores twice in Montreal's 4-3 win. A first period fight between Jack McIntyre and Bernie Geoffrion (in response to McIntyre breaking Billy Reay's cheek), a dust-up between Milt Schmidt and Maurice Richard as well as goals by Dave Creighton and Beliveau are shown. The end has highlights of the December 7, 1952 Toronto Maple Leafs versus Chicago Blackhawks game including a goal by George Armstrong.
Community content is available under
CC-BY-SA
unless otherwise noted.