Jack Kent Cooke
Born
October 25, 1912
Hamilton, Ontario, Canada
Died
April 6, 1997 (age 84)
Washington, D.C., U.S.
Occupation
Businessman:
Print/electronic media
Sport teams owner
Racehorse owner/breeder
Philanthropist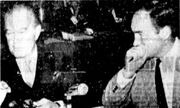 Jack Kent Cooke (October 25, 1912 – April 6, 1997) was a Canadian-American entrepreneur who became one of the most widely-known executives in North American professional sports. He owned the Washington Redskins (NFL), the Los Angeles Lakers (NBA), and the Los Angeles Kings (NHL), and built the The Forum in Inglewood, California.
Los Angeles Kings
Edit
As a Canadian, Cooke particularly enjoyed ice hockey, and he was determined to bring the National Hockey League (NHL) to Los Angeles. In 1966, the NHL announced it intended to sell six new franchises, and Cooke prepared a bid. The Los Angeles Memorial Coliseum Commission, which operated the Sports Arena, supported a competing bid, and advised Cooke that if he won the franchise he would not be allowed to use that facility. In response, Cooke threatened to build a new arena in the Los Angeles suburb of Inglewood. Nearly thirty years later Cooke told the Los Angeles Times sportswriter Steve Springer that he recalled "one official representing the commission laughing at him" (Springer's words) when Cooke warned he would build in Inglewood. Cooke won the franchise, and paid $2 million for the new Los Angeles NHL club, which he called the "Kings." Springer: "Cooke went to Inglewood and built the Forum. Goodby, Lakers. Goodby, Kings."[1] The Kings played their first game on October 14, 1967—at the Sports Arena, ironically enough, while construction was being completed at Cooke's new arena.
Cooke claimed The Forum would be "the most beautiful arena in the world." It opened December 30, 1967, to rave reviews. Cooke was soon calling it "The Fabulous Forum." The Kings struggled both on the ice and at the gate, however. Cooke had been told that there were more than three hundred thousand former Canadians living within a three-hour drive of Los Angeles, and remarked, "Now I know why they left Canada: They hate hockey!" Cooke sold the Forum, Kings and Lakers in 1979 to Dr. Jerry Buss.
References
Edit
Community content is available under
CC-BY-SA
unless otherwise noted.