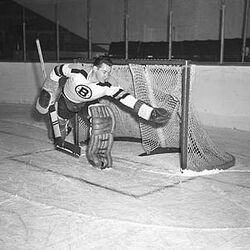 Jack Gelineau (November 11, 1924 in Toronto, Ontario – November 12, 1998) was a professional goaltender, principally for the Boston Bruins of the National Hockey League.
During the war Gelineau played for RCAF hockey teams and the junior Toronto Young Rangers and the Montreal Junior Royals. He was awarded the British Empire Medal for gallantry after surviving a 1944 plane crash and rescuing an injured crewman from the burning plane that was loaded with ammunition.
After the war, Gelineau entered McGill University in 1945 and graduated with a Bachelor of Commerce in 1949. He starred in goal at McGill for four seasons, racking up a 48–21–2 over-all record with a 3.39 goals against average. The last McGill goalie to be named team captain, Gelineau backstopped the Redmen to the 1946 Queen's Cup championship. He was the first recipient of the Forbes Trophy as McGill's male athlete of the year in 1948.
That spring, he was called up to the Boston Bruins, becoming the first goalie in 30 years to play in the NHL while still attending university (two decades later, Ken Dryden duplicated this feat while studying law at McGill and playing for the Canadiens). He won the Calder Trophy as the NHL's top rookie in 1950, but was unable to capitalize on his early potential. Despite his successful debut, he was unable to get a raise out of Bruins owner Weston Adams and eventually forced a trade to the Chicago Black Hawks.
He only played two games for the Blackhawks and played five seasons with the Quebec Aces (1951-55). The team won the Alexander Cup in 1951-52.
In 143 career NHL games he had 46 wins, 64 losses and 33 ties with a 3.13 goals-against average.
Gallery
[
]
Video
[
]
An incredible video featuring the 1951 off-season activities of 15 NHL players in the days when most worked during the summer. Brief, excellent game footage of each is shown. Players featured are Ted Lindsay, Johnny Peirson, Bill Mosienko, Bill Gadsby, Bill Juzda, Leo Reise, Jack Gelineau, Edgar Laprade, Doug and Max Bentley, Chuck Rayner, Gus Mortson, Pentti Lund, Glen Harmon, Elmer Lach.
External Links
[
]