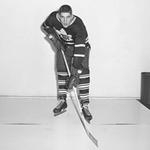 John Arthur James "Jack" Bionda (September 18, 1933 in Huntsville, Ontario – November 4, 1999) was a lacrosse and hockey player. He was a lacrosse superstar, dominating the sport throughout the 1950s and early 1960s.
He played junior hockey for the Toronto Marlboros of the Ontario Hockey Association from 1951 to 1954, and was signed by the Toronto Maple Leafs of the National Hockey League. Bionda played 13 games with the Leafs in the 1955–56 season, but spent most of the year with the Pittsburgh Hornets, the Leafs' affiliate in the American Hockey League. He led the AHL in penalty minutes with 190, despite playing only 46 games of the league's 64-game schedule.
Bionda was claimed by the Boston Bruins in the intraleague draft in June 1956, and would split the next three seasons between the Bruins and their AHL affiliates, the Springfield Indians and the Providence Reds. Over four seasons in the NHL, Bionda played 93 games, with three goals, 12 points, and 113 penalty minutes.
Bionda then played eight seasons in the minor professional Western Hockey League: one year with the Victoria Cougars (1959–60) and seven years with the Portland Buckaroos. The team made it to the league championship in six of those seven years, winning twice: 1960–61 and 1964–65. Bionda retired in 1967.
Honours
Bionda has been inducted into the Canadian Lacrosse Hall of Fame (1974), Canada's Sports Hall of Fame (1982), and the B.C. Sports Hall of Fame (1998).
Bionda died in London, Ontario at age 66. In June 2001, Huntsville, Ontario named its new arena the Jack Bionda Arena.
See Also
References