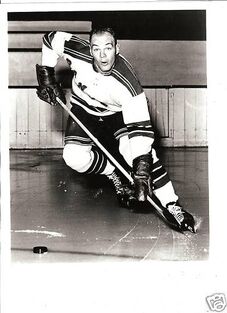 Ivan Duane Irwin (born March 13, 1927 in Chicago, Illinois) is a retired American professional ice hockey defenseman who played 155 games in the National Hockey League for the New York Rangers and Montreal Canadiens.
He played Junior "B" hockey in Scarborough, Ontario, from 1943 to 1947, including two years with the Scarborough Rangers. In 1947-48 he debuted with the Boston Olympics as they played in both the Quebec Senior Hockey League and the Eastern Hockey League.
After years in the minors, Irwin got an NHL chance in 1952-53 with four games with the Montreal Canadiens, scoring an assist. He found himself back in the minors until he was traded to the New York Rangers at the end of the season.
He spent the better part of three seasons (1953–56) as a regular for the Rangers and then was playing in the American Hockey League until he retired from pro hockey in 1960.
Irwin played intermediate hockey in the Ontario Hockey Association from 1960 to 1964, then played for the senior New Glasgow Rangers in 1964-65. He coached the Providence Reds in 1965-66 then finished off his career with the senior Orillia Terriers in 1966-67.
In the NHL Irwin played in 155 games and scored 2 goals and 27 assists.
External links