Italy
Nickname(s)
The Blue Team, Azzurri
Association
Federazione Italiana Sport del Ghiaccio
Head coach
Greg Ireland
Assistants
Giorgio De Bettin
Riku-Petteri Lehtonen
Captain
Markus Gander
Most games
Lucio Topatigh (243)
Top scorer
Alberto Da Rin (93)
Most points
Lucio Topatigh, Alberto Da Rin (131)
IIHF code
ITA
IIHF ranking
15
Highest IIHF ranking
13 (2007)
Lowest IIHF ranking
19 (2004-2005, 2018 (O)-2018)
Team colours

    

    

    

First international
 Sweden 7-1 Italy
(Milan, Italy; March 14, 1924)
Biggest win
 Italy 28-0 Belgium 
(Düsseldorf, Germany; March 1, 1955)
Biggest defeat
 United States of America 31-1 Italy 
(St. Moritz, Switzerland; February 1, 1948)
IIHF World Championships
Appearances
31 (first in 1930)
Best result
Finished in 4th place: 1 - 1953
Olympics
Appearances
9 (first in 1936)
Medals
none
International record (W-L-T)
337-416-77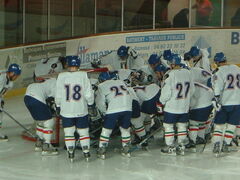 The Italian men's national ice hockey team is the national ice hockey team of Italy, and is controlled by the Federazione Italiana Sport del Ghiaccio (FISG), a member of the International Ice Hockey Federation. The team is currently ranked 15th by the IIHF World Ranking. The head coach is Clayton Beddoes. Italy has 5,210 players in their national pool (0,008 % of the total population).
Olympic Record
European Championship Record
1910-1923 - Did not participate
1924 - Finished in 5th place
1925 - Did not participate
1926 - Finished in 8th place
1927-1928 - Did not participate
1929 - Finished in 4th place
1932 - Did not participate
World Championship Record
Retired Numbers
#4 Gianfranco Da Rin
#11 Alberto Da Rin
Actual Roster
| Position | Number | Name | Born | Height | Weight | Shoots/Catches |
| --- | --- | --- | --- | --- | --- | --- |
| G | #1 | Andreas Bernard | June 9, 1990 | 6ft 1in (185cm) | 201lb (91kg) | L |
| G | #29 | Hannes Stoll | October 8, 1999 | 5ft 10in (178cm) | 165lb (75kg) | L |
| D | #2 | Daniel Glira | March 25, 1994 | 6ft 2in (188cm) | 192lb (87kg) | L |
| D | #51 | Roland Hofer | June 24, 1990 | 6ft 0in (182cm) | 196lb (89kg) | L |
| D | #27 | Thomas Larkin | December 31, 1990 | 6ft 5in (196cm) | 227lb (103kg) | R |
| D | #6 | Jan Pavlu | July 16, 1994 | 6ft 2in (188cm) | 181lb (82kg) | L |
| D | #37 | Phil Pietroniro | May 27, 1994 | 6ft 1in (185cm) | 183lb (83kg) | R |
| D | #24 | Peter Spornberger | January 6, 1999 | 6ft 1in (185cm) | 187lb (85kg) | L |
| D | #7 | Ivan Tauferer | January 26, 1995 | 6ft 3in (190cm) | 205lb (93kg) | R |
| D | #5 | Alex Trivellato | January 5, 1993 | 6ft 2in (188cm) | 198lb (90kg) | L |
| F | #19 | Raphael Andergassen | June 14, 1993 | 5ft 10in (178cm) | 174lb (79kg) | R |
| F | #10 | Anthony Bardaro | September 18, 1992 | 5ft 10in (178cm) | 181lb (82kg) | R |
| F | #22 | Simon Berger | July 30, 1999 | 6ft 1in (186cm) | 190lb (86kg) | L |
| F | #23 | Martin Castlunger | December 18, 1993 | 5ft 7in (169cm) | 154lb (70kg) | L |
| F | #20 | Ivan De Luca | July 28, 1997 | 6ft 4in (193cm) | 205lb (93kg) | L |
| F | #21 | Luca Frigo | May 30, 1993 | 6ft 0in (183cm) | 198lb (90kg) | L |
| F | #3 | Markus Gander | May 16, 1989 | 6ft 2in (187cm) | 196lb (89kg) | R |
| F | #31 | Peter Hochkofler | October 4, 1994 | 6ft 3in (191cm) | 203lb (92kg) | R |
| F | #8 | Marco Insam | June 5, 1989 | 6ft 2in (188cm) | 203lb (92kg) | R |
| F | #28 | Riccardo Lacedelli | May 3, 1995 | 5ft 10in (179cm) | 165lb (75kg) | R |
| F | #13 | Alex Lambacher | October 7, 1996 | 6ft 3in (191cm) | 198lb (90kg) | R |
| F | #32 | Matthias Mantinger | April 22, 1996 | 6ft 0in (182cm) | 192lb (87kg) | L |
| F | #15 | Viktor Schweitzer | June 15, 1992 | 6ft 2in (188cm) | 194lb (88kg) | L |
| F | #12 | Tommaso Traversa | August 4, 1990 | 5ft 7in (169cm) | 165lb (75kg) | L |
Team Staff
| Role | Name | Born |
| --- | --- | --- |
| Head coach | Greg Ireland | October 5, 1965 |
| Assistant coach | Giorgio De Bettin | August 7, 1972 |
| Assistant coach | Riku-Petteri Lehtonen | January 19, 1971 |
| Goaltending coach | Robbie Tallas | March 20, 1973 |
| Team manager | Gianfranco Talamini | April 20, 1950 |
| Equipment manager | Cesare Apollonio | May 26, 1967 |
| Video coach | Diego Scandella | May 7, 1964 |
See also