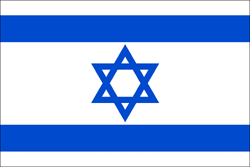 Israel is a nation in western Asia in the Middle East. It has a population of about 7,500,000.
Many of its hockey players are immigrants from Canada, the United States, and the former Soviet Union.
Israel

Info

Rinks

Players

Referees

4

Population

7,602,400

Indoor

3

Total

500

Male

--

Capital

Jerusalem

Outdoor

0

Male

120

Female

--

IIHF Since

May 1 1991

Junior

380

Female

28
The Israeli National Ice Hockey Team is the national ice hockey team of Israel. They are currently ranked 35th as of 2008 by the International Ice Hockey Federation. Their best achievement was promotion to the IIHF World Championship Division I in 2005 Men's World Ice Hockey Championships. Next year the team relegated again to Division II.
Israel made its international debut in 1992, as it played in Pool C of the World Championships. In its first game, the team was beaten 4-23 by Spain. Since 1992, the country has competed in the lower pools.
The Ice hockey practices began in Israel in 1986, with former Canadian players as instructors. The same year, the first ice rink was opened. An almost Olympic-sized skating rink was opened only in 1995. The Ice Hockey Federation of Israel was founded in 1988 and the country joined the International Ice Hockey Federation three years later
National Teams
Edit
Community content is available under
CC-BY-SA
unless otherwise noted.