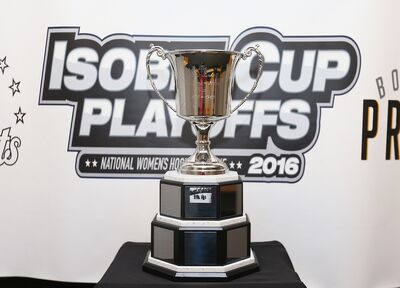 The Isobel Cup is the championship trophy of the National Women's Hockey League. It received its name from Lord Frederick Arthur Stanley's daughter, Isobel, who shared his love of the game and is known to be one of the first female hockey players in Canada. Isobel, along with her brothers, encouraged her father to purchase a silver cup to award to the best amateur hockey team in Canada. The Stanley Cup, as it was later named, became the championship trophy of the National Hockey League (NHL).
Dimensions The sterling silver Cup stands at 14 1/2" tall and sits atop an 11" base. The entire trophy stands at 25 1/2" tall. The Cup is 12" wide and weighs 15 pounds.
Engraving The front of The Cup reads: "The Lady Isobel Gathorne-Hardy Cup 1875-1963". The front panel on the top layer of the base shows a photo of Lady Isobel playing the game she loved. Under the photo it reads: "This Cup, shall be awarded annually to the greatest professional women's hockey team in North America. All who pursue this Cup, pursue a dream; a dream born with Isobel, that shall never die. EST. 2016". At the foot of The Cup, the Founding Four teams have been etched into white coriander to be immortalize in NWHL history.
Legacy At the conclusion of each Isobel Cup Playoffs, the entire winning team of the Isobel Cup will be etched onto its panels for all of eternity. The current configuration of The Isobel Cup will last for the first 15 seasons the trophy is awarded. At the start of season 16, a new layer will be added to the bottom of the base to accommodate the next generation of champions.
The Isobel Cup will live at The Hockey Hall of Fame in Toronto when not being utilized by the NWHL.
Champions