The International Hockey League was a AA level professional league with teams in the United States. The league was headquartered in Rochester, Michigan prior to the merger, and as of its' last year, consisted of seven teams.
History
[
]
The IHL was originally formed in 1991 as the Colonial Hockey League, intended to fill the Great Lakes region niche abandoned by the original International Hockey League as it went upmarket. It had teams in Brantford, Ontario; Detroit, Michigan; Flint, Michigan; St. Thomas, Ontario; and Thunder Bay, Ontario. As the ECHL moved westward (into Toledo, Dayton, and Peoria), the CoHL moved eastward, into places like the Adirondacks, Danbury, CT, Binghamton, NY, and Richmond, VA. During that expansion, the league was renamed the United Hockey League in 1997, before renaming itself the International Hockey League in 2007.
The name change was intended to evoke the original IHL (1945–2001), which had long-standing franchises in the Great Lakes region. The Fort Wayne Komets were longstanding members of the original league. In addition, the Kalamazoo Wings and Flint Generals revived the names of the original Kalamazoo and Flint IHL teams. Many of the current IHL players have American Hockey League as well as European pro league experience.
On June 27, 2007, a dispersal draft was held among the six IHL teams, selecting players from the four 2006-2007 UHL franchises that were no longer part of the newly named league. Currently, Paul Pickard serves as President and CEO of the IHL; he is also president of Stadium Management Corporation.
On June 1, 2010 the league announced that it would merge into the Central Hockey League.[1]
On July 13, 2010 the Central Hockey League merged with the IHL. The five remaining IHL teams, Bloomington PrairieThunder, Dayton Gems, Evansville IceMen, Fort Wayne Komets and Quad City Mallards franchises officially merged.
Colonial/Turner Cup champions
[
]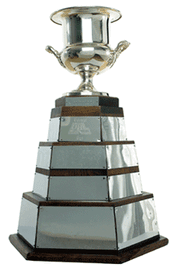 The Turner Cup is awarded to annual playoff championship. The name Turner Cup has been restored as of September 24, 2007 as a tribute to the original IHL. Before this, the trophy given to the league playoff champions was known as the Colonial Cup. The past winners are:
Teams
[
]
United Hockey League 1997-2007
[
]
| Team name | City | Arena | Years | Comments |
| --- | --- | --- | --- | --- |
| B.C. Icemen | Binghamton, New York | Broome County Veterans Memorial Arena | 1997-2002 | folded when city gets American Hockey League team |
| Brantford Smoke | Brantford, Ontario | Brantford Civic Centre | 1997-1998 | relocated to Asheville, North Carolina; renamed Asheville Smoke |
| Flint Generals (1993–2010) | Flint, Michigan | IMA Sports Arena | 1997-2007 | join International Hockey League (2007-2010) |
| Madison Monsters | Madison, Wisconsin | Dane County Coliseum | 1997-1999 | relocated to Knoxville, Tennessee; renamed Knoxville Speed |
| Muskegon Fury | Muskegon, Michigan | L.C. Walker Arena | 1997-2007 | join International Hockey League (2007-2010) |
| Port Huron Border Cats | Port Huron, Michigan | McMorran Arena | 1997-2002 | folded; replaced by Port Huron Beacons |
| Quad City Mallards (1995–2007) | Moline, Illinois | The MARK of the Quad Cities | 1997-2007 | folded when city gets American Hockey League team |
| Saginaw Lumber Kings | Saginaw, Michigan | Wendler Arena | 1997-1998 | renamed Saginaw Gears (UHL) |
| Thunder Bay Thunder Cats | Thunder Bay, Ontario | Fort William Gardens | 1997-1999 | moved to Rockford, Illinois; renamed Rockford IceHogs (UHL) |
| Winston-Salem IceHawks | Winston-Salem, North Carolina | LJVM Coliseum Annex | 1997-1999 | relocated to Glens Falls, New York; renamed Adirondack IceHawks |
| Asheville Smoke | Asheville, North Carolina | Asheville Civic Center | 1998-2002 | folded |
| Mohawk Valley Prowlers | Utica, New York | Utica Memorial Auditorium | 1998-2001 | folded February 21, 2001 |
| Saginaw Gears (UHL) | Saginaw, Michigan | Wendler Arena | 1998-1999 | moved to North Canton, Ohio December 20, 1999; renamed Ohio Gears |
| Adirondack IceHawks | Glens Falls, New York | Glens Falls Civic Center | 1999-2004 | renamed Adirondack Frostbite |
| Fort Wayne Komets | Fort Wayne, Indiana | Allen County War Memorial Coliseum | 1999-2007 | join International Hockey League (2007-2010) |
| Knoxville Speed | Knoxville, Tennessee | Knoxville Civic Coliseum | 1999-2002 | folded |
| Madison Kodiaks | Madison, Wisconsin | Dane County Coliseum | 1999-2000 | relocated to Kalamazoo, Michigan; renamed Kalamazoo Wings |
| Missouri River Otters | St. Charles, Missouri | Family Arena | 1999-2006 | folded |
| Rockford IceHogs (UHL) | Rockford, Illinois | Rockford MetroCentre | 1999-2007 | fold when city get American Hockey League team |
| Ohio Gears | North Canton, Ohio | Center Ice Sports Complex | 1999-2000 | folded after sitting out waiting on planned arena in Massillon, Ohio to come to fruit, which didn't happen |
| Elmira Jackals | Elmira, New York | Coach USA Center | 2000-2007 | fold when league was in proces of being renamed International Hockey League (2007-2010) |
| Kalamazoo Wings | Kalamazoo, Michigan | Wings Stadium | 2000-2007 | join International Hockey League (2007-2010) |
| New Haven Knights | New Haven, Connecticut | New Haven Coliseum | 2000-2002 | fold when arena closes |
| Port Huron Beacons | Port Huron, Michigan | McMorran Arena | 2002-2005 | relocated to Roanoke, Virginia; renamed Roanoke Valley Vipers |
| Columbus Stars | Columbus, Ohio | Ohio Expo Center Coliseum | 2003-2004 | folded January 9, 2004 |
| Richmond Riverdogs | Richmond, Virginia | Richmond Coliseum | 2003-2006 | relocated to Hoffman Estates, Illinois; renamed Chicago Hounds |
| Adirondack Frostbite | Glens Falls, New York | Glens Falls Civic Center | 2004-2006 | folded |
| Danbury Trashers | Danbury, Connecticut | Danbury Ice Arena | 2004-2006 | folded |
| Kansas City Outlaws | Kansas City, Missouri | Kemper Arena | 2004-2005 | folded |
| Motor City Mechanics | Fraser, Michigan | Great Lakes Sports City Superior Arena | 2004-2006 | folded |
| Port Huron Flags (UHL) | Port Huron, Michigan | McMorran Arena | 2005-2007 | join International Hockey League (2007-2010) as Port Huron Icehawks |
| Roanoke Valley Vipers | Roanoke, Virginia | Roanoke Civic Center | 2005-2006 | folded |
| Bloomington PrairieThunder | Bloomington, Illinois | U.S. Cellular Center | 2006-2007 | join International Hockey League (2007-2010) |
| Chicago Hounds | Hoffman Estates, Illinois | Sears Centre | 2006-2007 | fold when league was in process of being renamed International Hockey League (2007-2010) |
International Hockey league (2007-2010)
[
]
External links
[
]