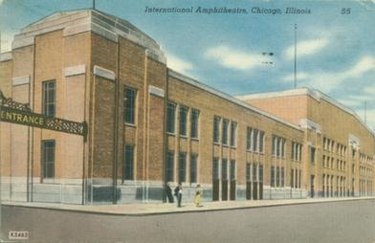 The
International Amphitheatre
was an indoor
arena
located in
Chicago, Illinois
between 1934 and 1999. It was located on the west side of Halsted Street at 43rd Street on the city's south side, adjacent to the Union Stock Yards.
The arena was built for $1.5 million by the stock yard company principally to host the International Livestock Exhibition. The arena replaced Dexter Park, a horse-racing track that had stood on the site for over 50 years prior to its destruction by fire in the 1920s. The completion of the Amphitheater ushered in an era where Chicago reigned as a convention capital. In an era before air conditioning and space for the press and broadcast media were commonplace, the International Amphitheater was among the first arenas to be equipped with these innovations.
The Amphitheatre was also the primary home of the Chicago Cougars of the WHA from 1972 to 1975. It was originally intended to be only a temporary home for the Cougars, but the permanent solution, the Rosemont Horizon, was not completed until 1980, five years after the team folded and a year after the WHA had gone out of business.
The Stock Yards closed in 1971, but the Amphitheatre stayed open, hosting rock concerts, college basketball and High School playoff games, circuses, religious gatherings, and other events. The shift of many conventions and trade shows to the more modern and more conveniently-located lakefront McCormick Place convention center during the Sixties and Seventies began the International Amphitheater's decline, and the Amphitheater's business dried up as new convention centers and concert arenas opened in the suburbs.
Sold in 1983 for a mere $250,000, the sprawling Amphitheater became difficult to maintain, and proved unable to attract enough large events to pay for its own upkeep. It was eventually sold to the city of Chicago, which had no more success at attracting events than its previous owner. In August 1999, demolition of the International Amphitheater began. An Aramark Uniform Services plant is located on the site once occupied by the Amphitheatre.
External links
Edit
Community content is available under
CC-BY-SA
unless otherwise noted.