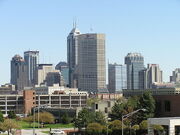 Indianapolis is the capital and largest city in Indiana. It has a population of about 800,000 and a metro population of just over 2,000,000.
On November 26, 2013, the ECHL announced that the Indianapolis Speed was to be added to the league for the 2014-15 season.  The team will play at the Fairgrounds Coliseum (formerly the Pepsi Coliseum) which is presently closed due to renovations being done.  This was not to affect the Indiana Ice of the USHL as they had played in the coliseum prior to it closing for renovations and have split their games between the Pan Am Pavillion and the Bankers Life Fieldhouse since then and announced that the team will not return to the Coliseum after it reopens. The team would go to an inactive status starting with the 2014-15 season. In mid-April 2015, the mayor of the suburban community of Fishers, Indiana announced a proposal for a multisport facility that would include a 4,200 seat arena which could be home to a revived Indiana Ice franchise. The community has scheduled several public hearings in April and May of 2015 and is scheduled to vote on the proposal May 18, 2015.
(International Hockey League, 1988-1999) transfer to CHL
(Central Hockey League, 1999-2004) became Topeka Tarantulas
(United States Hockey League), 2004-2014) sitting out 2014-15 and 2015-16 seasons, working on new arena (Lyceum Project) after arrival of ECHL franchise
(International-American Hockey League, 1939-1940) league renamed AHL
(American Hockey League, 1940-1952) ceased operations
(Central Professional Hockey League, 1963-1963) became Cincinnati Wings after rink explodes
(Central Hockey League, 1979-1984) join IHL
(IHL, 1984-1987) became Colorado Rangers
Community content is available under
CC-BY-SA
unless otherwise noted.